Santa Clarita Archery Range
The one-acre Santa Clarita Archery Range is located in Haskell Canyon Open Space and is free to visit seven days a week, from dawn till dusk. The archery range does not provide rentals, so please come prepared with your own bow and arrow.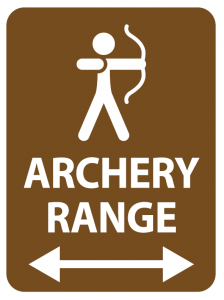 LOCATION:
Follow signs for the Santa Clarita Archery Range off of Copper Hill Drive Avenue (east of Haskell Canyon Road and before Brookview Terrace). Please note, the path to the archery range is a 1.4 mile dirt road.
RULES:
Follow archery shooting procedures.
Number of arrows in = number of arrows out.
Only shoot at designated targets.
Always be aware of the target and what is beyond the target.
Always keep bow pointed toward targets.
Always draw bow with arrow parallel to the ground.
Only nock arrows at the shooting line.
Always have an arrow nocked when drawing to eliminate the possibility of a dry fire.
Use only target or field points on arrows. No broadhead allowed.
Anyone 16 and under must be under adult supervision.
SHOOTING PROCEDURES:
Verify that the range is clear.
Give "Range is Hot" or similar command to indicate shooting may commence.
When finished shooting, place bow on rack or set it down and wait behind the shooting line until all archers are finished shooting.
Give a "Cease Fire" or similar command to indicate all shooting should stop.
Verify all equipment is put down and remains behind the shooting line.
Proceed to the targets to retrieve arrows.
When using whistle commands: use one (1) whistle blast (i.e. "shoot") to indicate shooting may commence; three (3) blasts (i.e. "go get arrows") to indicate arrows may be retrieved, and four (4) or more blasts if an emergency exists. Two (2) whistle blasts (i.e. "get bows") are used during programs to indicate participants can pick up their equipment. This command is not necessary during open shooting.
For Emergencies, call 911. For Safety or Enforcement assistance, call the L.A. County Sheriff's Department at (661) 255-1121.